Headmaster returns after hiking injury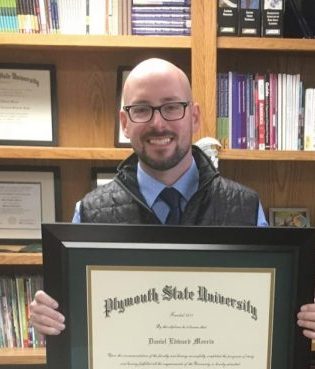 On Oct. 24, headmaster Dr. Morris returned to Pembroke Academy following his recovery from a back injury.
Dr. Morris sustained the injury while hiking Mt. Washington's Huntington's Ravine when he fell from a boulder he was climbing. The incident occurred in August last summer. While Dr. Morris received medical care following his injury that he had believed helpful, the back pain returned and exacerbated in September. He was brought to the emergency room. 
For a period of four weeks Dr. Morris was not present at PA while resting and working from home. Since his return, Dr. Morris has not needed to return to the emergency room or take any further leaves of absence.
Dr. Morris said that during his recovery, he received a great deal of support from Pembroke Academy's staff and student body.
"Everyone has been very supportive," said Dr. Morris. "Our staff have done everything they can to help me and my family while I have been out. Parents and students have also reached out to check on me and share their well wishes, which meant a lot to me."
While convalescing, Dr. Morris said he was looking forward to returning to work to see everyone and serving PA.
"I was really looking forward to coming back to see everyone," said Dr. Morris. "My dogs were great at home, but I missed seeing everyone at school, especially the students. I am glad to be back and hope to get to full strength as soon as possible. I am really appreciative of how great the Pembroke Academy community is."
The staff at Pembroke Academy were also looking forward to Dr. Morris' return. Social studies Ms. Doyle was happy to welcome Dr. Morris back into the building.
"I'm happy that our captain is back to helm the ship," said Ms. Doyle.
Social studies teacher Ms. Frostholm was also pleased to see Dr. Morris back in action.
"I am so thrilled that he's back. We missed his presence. We're so glad he's feeling better," she said.