PA wins!
The New Hampshire Excellence in Education Awards (Edies) selection committee named Pembroke Academy the Secondary School of the Year for 2022-23 at a schoolwide assembly in the Ed Cloe Gymnasium on May 8.
Each year, the Edies recognize both schools and individual educators for meeting "high standards of excellence" in New Hampshire, according the website. 
"I'm excited for our school, for the staff and for the community," said headmaster Dr. Morris. "It's an opportunity to reflect on things we're doing well."
A committee of four staff members spearheaded the application process in September that would eventually lead to receiving the award. The staff members included director of curriculum Ms. Parkinson, social studies teacher Mrs. Doyle, English teacher Mrs. LeComte and outreach counselor Ms. Roux.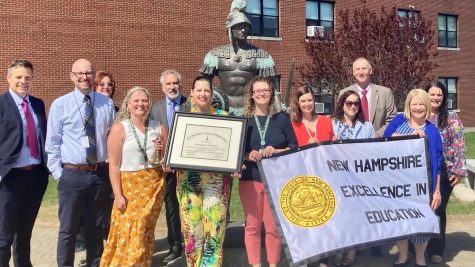 The Edies selection committee cited PA's sense of community, the Pushing Your Limits summer program, and dedicated staff as some prime factors in their decision.
"A highlighted section that really stood out to them was the relationships between the students and teachers," said Ms. Parkinson, adding that the teachers have a strong connection with the students at PA.
Many of the students at PA also highlighted the relationship between teachers and students as strength at the school. 
"It's a small school, so everybody knows everybody, but the teachers make it a point to actually know the students personally," sophomore class president Cam Carter said.
Freshman Calvin Carter agreed. "You can really see how much the teachers care, by how involved they are with the students," he said.
A diverse curriculum at PA proved another boon for the school.
"I think the large range of classes we have at PA is another strength," said Mrs. Doyle. "The students have a wide array of opportunities here that aren't available in a lot of other schools."  
Additionally, PA is far above the state average for the percentage of our teachers with advanced degrees, added Mrs. Doyle. 
The other New Hampshire schools recognized with PA were Swasey School in Brentwood (elementary), Chester Academy (K-8) and Merrimack Valley Middle School.