Mrs. LeComte elevates the art of makeup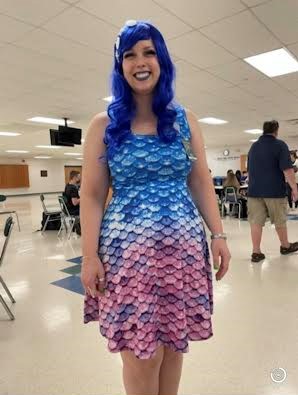 Last year, English teacher Mrs. LeComte created a TikTok account called "The Makeup Meltdown" and hung posters throughout the school advertising it.  While she originally made the account to give students tips with their prom makeup, she now has over 800 followers between her TikTok  and YouTube accounts. 
Mrs. LeComte started wearing makeup when she was 13 years old, and her mother taught her the basics, such as single color eyeshadow and mascara. Mrs. LeComte then taught herself how to do "creative, fun looks." 
Throughout high school, Mrs. LeComte began to practice and experiment with makeup, but it wasn't until four years ago that she started doing "full glam," she said.
Mrs. LeComte said she began to do makeup because she is colorful person and wanted her "insides" to match her "outsides," and using makeup helped with that. 
"Makeup is my art, and fashion is an extension of that as well," said Mrs. LeComte. "It's how I express myself. As everyone knows, I love to dress in themes and color schemes." 
She also uses her TikTok account to teach about contracts to her Real Life English course. She shows her students the contracts from some of the brand deals she has procured, and explains what these brands will expect in return. 
Some of the videos she makes are silly and meant to be humorous, such as her false eyelash application video. "I made a skit in the beginning where I was 'admiring' my false eyelashes in the mirror," she said. "Then I pretended to sneeze and they fell on my face! I still think it's hilarious." 
The videos have been helpful for PA students as well. Mrs. LeComte gives viewers good advice, and she said she is always learning more about her  passion. She enjoys reading articles and watching videos about hair, makeup and fashion.  
"I'm always learning," she said. "I learned hooded eyes from a creator on TikTok, and the eyeliner technique for hooded eyes worked on me. When I do a winged eyeliner look now, it looks so much better with the new technique I learned."
As an online presence, Mrs. LeComte said she does have to deal  with internet trolls leaving harsh comments; however, she doesn't allow the trolls to get under her skin. She said she just deletes the hate and continues to do what she enjoys. 
"The Makeup Meltdown"  has a lot of positives and works as a fantastic "creative outlet" for her. She said she truly enjoys helping people save money and giving them tips to help them look and feel their best.