PA renovates Four Girls Memorial Library
During the summer vacation, Four Girls Memorial Library was renovated using a $150,000 surplus allocated by The Pembroke School Board. 
"The library tends to not be much of a priority when it comes to finances," said librarian Ms. Smith. "This money opened so many doors for us." 
With the money, the oldest parts of the library were "freshened up" with new furniture, shelving and a fresh coat of paint on the walls, said Ms. Smith.
The library had not been updated in more than  30 years, and headmaster Dr. Morris said last year the renovation library was "at the top of [their] list" when it came to surplus purchases.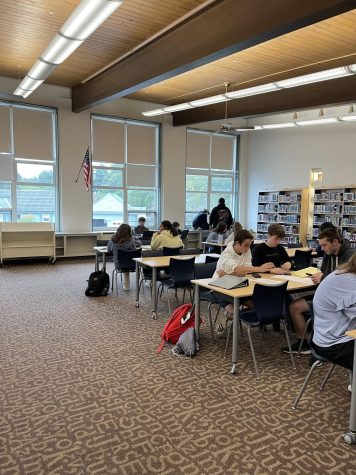 "The renovations addressed many of our needs," he said. "I am really happy with how it turned out."
There were also updates in Makerspace, the area of the library where digital learning specialist Ms. Quesnell works and teaches her classes, such as the yearbook. The updates in Makerspace included mobility for all of the furniture and more natural sunlight, giving the small room more independence and space. 
"I love to come to work now," Ms. Quesnell said. "It's been modernized and brightened up and is an enjoyable experience." 
Key Club recently began holding their  meetings after school in the updated media center. 
"The library is perfect, especially with the new makeover," Key Club advisor Mrs. French said. "I love going in there. It's so crisp and clean and new." 
Mrs. Smith believes the renovated library can benefit everyone in the PA community. "My biggest hope for the library this year is that everybody finds it more inviting, comfortable and versatile," she said.