Simmons 'makes a difference'
On a bright Saturday with clear blue skies in October, PA hosted its homecoming weekend games. This included football and soccer games throughout the day and concluded with a bonfire on Saturday night. 
The students were also asked to participate in a "Pink Out." 
Pink Outs raise awareness for breast cancer during the month of October, which is Breast Cancer Awareness Month. It is an international campaign organized by major breast cancer charities and research facilities. The month  celebrates and recognizes survivors as well as commemorates the loss of many lives. 
PA graduate Lauren Simmons and her sister, junior Grace Simmons, started a Making Strides Against Breast Cancer team called Pembroke YOUnited in 2018. 
After Lauren's graduation in 2021, Grace became the sole captain and led 32 PA students and others in the Pembroke community. Since its creation, they have raised $9,000 towards putting an end to breast cancer.
"Every year since the team's creation, Pembroke Academy's girl's soccer teams have held a 'Pink Out' game because my sister and I are part of the school's soccer program," said Grace. "We try to make the event as fun as possible for the players. We also encourage the other team and the refs to participate if they are willing."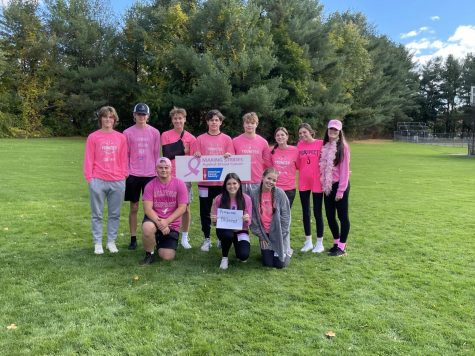 Next year, Grace Simmons said she plans to incorporate more teams, starting with the boys' soccer team.
"It is this unity that can make a difference for cancer patients and survivors," she said. "The more communities that are able to do this, the bigger difference we can make. It begins with us and it begins with you."