Sealed with a fist bump and a smile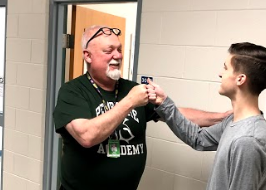 Mr. Donnell—otherwise known as "Coach"—walks through the cafeteria during Lunch A, craning his neck and looking for one of his students. Tall and burly with a gray goatee and a standard buzz cut, Coach needs to speak with this student and it can't wait.  
"Some kids go through rough times, and having someone here that they can count on to make their day better is my goal," said Mr. Donnell.
He said that he comes the school everyday with a smile and a desire to help students.
"I understand when you wake up and just don't want to get out of bed," said Mr. Donnell. "But when I enter the building, the switch flips from groggy to energetic."
Education is not Mr. Donnell's first career. He worked retail for 25 years then owned his own business for 10 years. In 2012, he started as a basketball coach in the Pembroke School system, earning him the moniker "Coach."
The same year he started coaching in Pembroke, Mr.Donnell started substitute teaching the same year he began as a basketball coach at PA, a position that later became full-time.
"I could have retired at 50, but taking this job [in coaching and education] has brought more light into my life," he said.
Mr. Donnell has coached baseball, basketball and football at PA, and is currently coaching basketball at Franklin High School and baseball at Epping High School.
These days, Mr. Donnell monitors Academic Labs for freshman and sophomores. While not a traditional teacher, his classes are special.
"No one can leave the room without a fist bump and a smile," said Mr.Donnell. "My goal is to make kids feel comfortable being here and having someone they can come to and trust".
Coach finds the student he was looking for in the cafeteria and sits down at the table next to the young man, placing his hand on his shoulder, listening and nodding his head.
He then stands up, smiling, and leaves to return to his classroom.
But not without a fist bump first.
About the Writer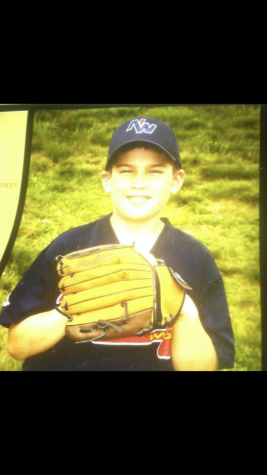 Cam Nixon, Staff
Hi, my name is Cam Nixon and I am a senior at PA. I am originally from Nashua, N.H. where I went to Nashua North High School for two years. My favorite...