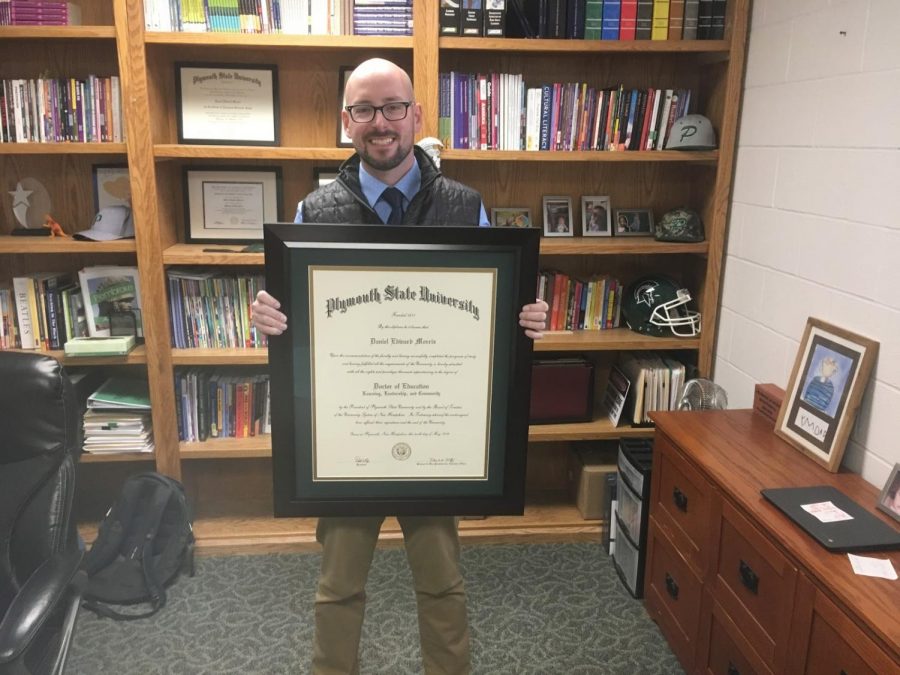 On May 23, Director of Curriculum Mr. Morris earned his PhD in Education from Plymouth State University, changing his official honorific to Dr. Morris.
Mr. Morris started the process of writing his dissertation in 2014.
Titled "Learning to Serve Many," Mr. Morris's dissertation, complete at 208 pages, concentrated on superintendents in multi-district school administrative units (SAU's). After Mr. Morris would finish a chapter, he would bring it to a chair member on his doctoral committee who was entrusted with reading it and offering suggestions for revision.
The chapter would need approval before Mr. Morris moved on to the next chapter.
As for getting the whole dissertation approved, Mr. Morris said his dissertation was revised several times before the final approval.
"That was probably the hardest part," he said. "It also did not help having a full-time job and children." 
While many would have gotten discouraged and quit, Mr. Morris persevered until his dissertation was accepted and he earned his doctorate in education, a terminal degree in the field.
With the advanced degree, Morris opened himself to a host of new opportunities.
"I did it for more options later on in my career, and this was just a good time to do it," said Mr. Morris.
The Director of Curriculum started his career as an English teacher at Three Rivers School and later became an assistant principal. In 2016, he became the director of curriculum at Pembroke Academy, where he continues to work for the PA community. 
Despite the new title, Mr. Morris doesn't even seem to care about being called  "Dr." Morris.
"I think if you were going to get your doctorate, and that was the reason, you shouldn't have gotten it in the first place," he said.